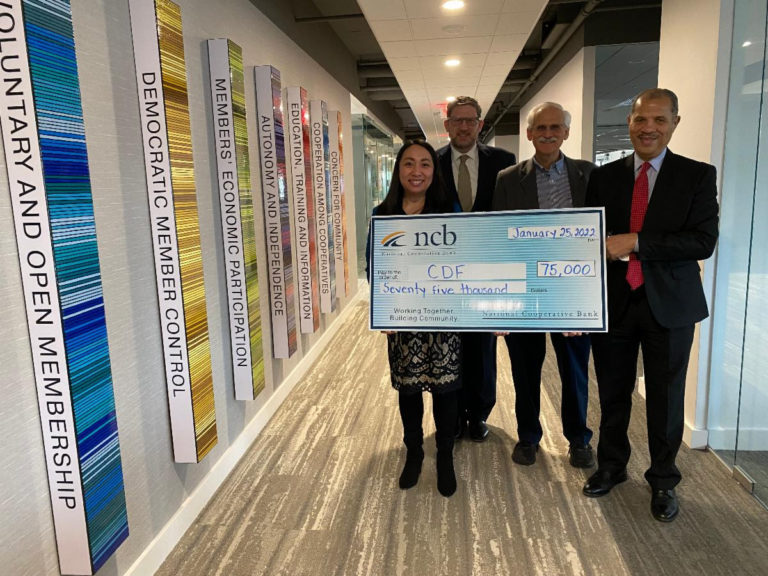 The National Cooperative Bank (NCB) recently donated $75,000 to CDF in support of cooperative development. This donation was made in honor of former NCB CEO and CDF Board Member, Chuck Snyder, who passed away in November 2021.
Acting NCB CEO, Casey Fannon; CDF Board Chair, Rich Larochelle; Vernon Oakes, host of the Everything Co-op Podcast and Radio Show; and Kirstie Boyette, CDF commemorated the donation at the NCB headquarters.
Chuck's support of the Cooperative Development Foundation was unsurpassed. He was not only a cooperative champion, 2012 Hall of Fame inductee, longtime board member of CDF, but also an enthusiastic supporter and NCB team member of the Co-op 5k.
In his honor, CDF will recognize his work and contribution by incorporating the words he lived by into the Co-op 5k – "do well to do good." CDF will use funds raised in Chuck's honor through the race and other efforts to honor him by doing well to do good, especially for people and communities in need, as he did. Funds raised will support education and co-op development work to help marginalized communities nationwide.
Want to do well to do good? Honor Chuck by joining the Co-op 5k and donating to CDF in Chuck's honor.
About the Cooperative Development Foundation
The Cooperative Development Foundation (CDF) promotes self-help and mutual aid in community, economic, and social development through cooperative enterprise. CDF is a thought leader in the use of cooperatives to create resilient communities, including the housing and care needs of seniors and people living with disabilities. Through its funds, fiscal sponsorships, and fundraising, CDF makes grants and loans that foster cooperative development domestically and abroad. CDF provides recovery grants to cooperatives impacted by disaster, scholarships to train local cooperative leaders, and funding for research and education to advance the understanding of cooperatives. CDF hosts the annual Cooperative Hall of Fame, an event that exists to recognize the accomplishments of outstanding cooperative leaders. The Hall of Fame is held at the National Press Club in Washington, DC annually in October. CDF also hosts the Co-op 5k, a fun, family-friendly event that brings together cooperators from all sectors in the Spring. Both events are major fundraisers for the Foundation.  Headquartered in Washington, DC, CDF is the 501 (c)(3) non-profit affiliate of the National Cooperative Business Association (NCBA CLUSA).
About National Cooperative Bank

National Cooperative Bank is dedicated to strengthening communities nationwide through the delivery of banking and financial services, complemented by a special focus on cooperative expansion and economic development. NCB provides financial products and services for the nation's cooperatives, their members, and socially responsible organizations. Headquartered in Washington, DC, the Bank has offices in Alaska, California, New York, Ohio, and Virginia. To learn more, visit www.ncb.coop, National Cooperative Bank on Facebook and Instagram, or Twitter @natlcoopbank.